I love pumpkin….pumpkin in everything…it adds such a rich, moist, not too dense texture to almost anything you bake from cupcakes to muffins to breads. I have never made a dump cake before so was not sure how this would turn out but I ended up making it twice in 8 days to take to two different get-togethers and both times it got rave reviews. It is super easy and does not take much time at all to make. I found a few recipes on the internet and tweaked the second cake a bit as the first was a little too sweet.
Directions:
Ingredients
1 15 oz. can pumpkin puree

3 eggs

½ C. packed brown sugar

½ C. white sugar

1 12 oz. can evaporated milk

1 tsp. ground cinnamon

½ tsp. ground ginger

¼ tsp. ground cloves

1 box yellow cake mix

1 cup Graham crackers crushed by hand…not too finely crushed but not too chunky

1 cup butterscotch chips or chocolate chips or a combination of both

½ C. melted butter
Directions
Preheat oven to 350 degrees. Grease a 9x13 inch pan. In a large bowl, combine pumpkin puree, eggs, brown sugar, white sugar and milk. Stir in cinnamon, ginger, cloves and salt. Pour into pan. Sprinkle dry cake mix evenly over the pumpkin filling. Sprinkle graham crackers and chips over the cake mix. Drizzle melted butter over all. Bake in the preheated oven for 50-60 minutes, or until the edges are lightly browned. Allow to cool.
I refrigerated mine once cooled and preferred it chilled but my husband preferred it at room temperature so you may want to try it both ways.
Serve with fresh whipped cream, ice cream or plain.
Enjoy!!!
hugs, mb
linking to: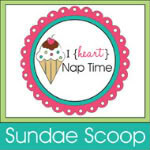 Sharing Sundays @ Everyday Sisters