5 Tips for No Fuss Table Settings
I would love to create lush table settings like the ones I so admire but then, reality finds me and usually hits me smack dab in the head!
My reality and yours may be similar.
When I entertain I have very limited space which means that I have to leave room on my table for the food I'll be serving as well as to allow comfort for my family and guests.
Therefore, the table settings I create are functional, minimal, lovely and budget-friendly.
5 Tips for No Fuss Table Settings
I'm so glad you stopped by today so we could talk table settings! When I see a table set for a meal I imagine myself seated at the table and enjoying the surroundings. Taking it all in. Each and every nuance and detail.
Today, I'm sharing my favorite tips for creating table settings keeping the above in mind while using mostly items you have on hand or items you can easily find for a good price.
At the bottom of this post, you'll also find links to some blogger friends who are sharing lovely Easter posts.
Tablecloth, Napkins, Place Mats
Tablecloths
A tablecloth acts as an anchor or base for your table setting.
I recommend stain resistant tablecloths. I have a white linen tablecloth with matching napkins that I have only used a few times. Every time I've used it, it's gotten stained.
By the time I get the stain out and then starch and iron the beast (it's 60 x 102 inches) plus the matching napkins I vow not to use it again.
If you have a tablecloth that stands up to stains and laundering, by all means, use that but in case you don't, my second favorite option is a lace tablecloth.
Lace tablecloths hold up surprisingly well to use and laundering (when laundered properly!). The one on my table is a 60 x 104 inch Princess House lace tablecloth. It is vintage but it has held up to years of use.
Napkins
Cloth napkins are wonderful for formal settings but there are beautiful paper napkins that can just as easily be used!
I stock up on these when I see them on clearance. They're great for any day of the week and if you can get the matching or coordinating plates on sale any meal can be a special occasion.
Placemats
I don't normally use placemats if I'm also using a tablecloth but to create a more formal feel I used fabric placemats for this setting.
Be aware of the stain dilemma, though. I often find beautiful fabric placemats at the thrift store.
Candles
Candles help to create a mood. Even if the dinner isn't a romantic one candles are a wonderful way to set the theme.
I usually light taper candles when entertaining but for this table, I used some egg-shaped candles I bought on clearance a few years ago.
Centerpiece or Floral Arrangement
My centerpiece of choice is fresh flowers. Keep in mind that you don't want anything too tall or too invasive.
You want everyone at the table to be able to see each other and communicate.
I found this bouquet of hydrangeas for only $12.00 at a local grocery store.
I didn't have a vase big enough to allow this bouquet to sprawl but I did have a large glass candle holder.
I removed the insert that holds the candle and used this as my vase. I love the way it looks and since it's see through it gives an open feel to the table.
To add a little depth to the vase I placed it on a silver tray from the Dollar Tree.
To add a little warmth to the glass vase I tied a large satin bow from my craft stash to the vase.
Dishes, Silverware and Drink Ware
Special occasions are the time to pull out your favorite dishes.
My favorite set for Easter/Spring is my Pfaltzgraff Grandma's Kitchen. It's also fun to use silverware and glasses that you may not normally use.
I will be totally honest with you, though. I didn't have a working dishwasher for 10 years and during those years, I opted for pretty paper plates and paper napkins.
The china stayed safely tucked away during that time.
A Little Extra Something
For this particular table setting I added something spring-like to each plate.
A white chalk paint bird.....
A white chalk paint rabbit.....
a rabbit that holds a single flower bud.....
and a fabric lamb that was my oldest son's when he was a child.
I normally like to place a small gift, individual boxes of chocolate or small plants to each place setting for guests to have as a take away but since this is just for my family I used small things that I had around the house.
More Easter Inspiration!
Monday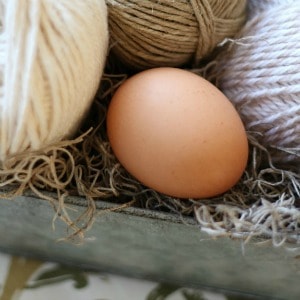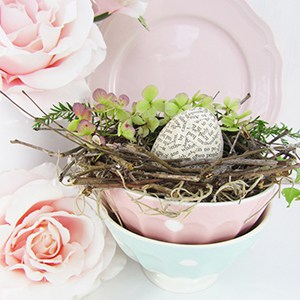 Tuesday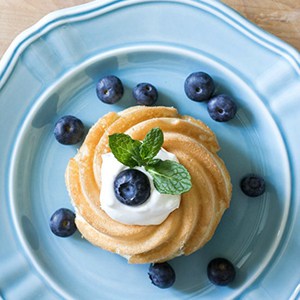 Wednesday
Thanks so much for stopping by!