Spring is here and so is fresh strawberry season. It's time to start planning for barbecues and outdoor entertaining and whether you're hosting the get together or attending one these strawberry and lemon shortbread bars are the perfect dessert. They have just the right amount of sweetness from delicious juicy strawberries and just enough tang from the fresh lemons. These can be made ahead up to 2 days in advance so if you are planning on making it for guests you won't be rushing around at the last minute.
When I was growing up one of my Grandma's sisters made the most amazing cheesecake and she added food coloring to the frosting to match any occasion ~ bridal showers, baby showers, weddings...no matter what the reason for celebrating Aunt Louise was the Queen of Cheesecake. I think (fingers crossed) I may have her recipe among my Mom's old cookbooks but until I find it this cheesecake is a close second as far as my favorite cheesecake recipes.
[Tweet "A summer picnic favorite~Strawberry, Lemon Shortbread and Cheesecake Bars"]
Ingredients:
2 cups all-purpose flour
½ cup powdered sugar
¾ tsp. lemon zest
1 ½ sticks of cold butter (¾ cup)
2 8-ounce packages cream cheese, softened
¾ cup granulated sugar
2 large eggs
1 tbsp. fresh lemon juice
1 cup strawberry preserves
Serve with fresh whipped cream and strawberry slices if desired
Preheat oven to 350 degrees. Stir together flour, powdered sugar and ½ tsp. lemon zest in a medium bowl.
Cut in butter with pastry blender
........until crumbly.
Press mixture onto bottom of a lightly greased 13 x 9 inch pan.
Bake the crust above for 20 minutes until lightly browned.
While the crust is baking, beat cream cheese and granulated sugar at medium speed with an electric mixer until smooth. Add eggs 1 at a time and beat just until blended. Stir in lemon juice and remaining lemon zest beating well.
Spread preserves over shortbread.
Pour cream cheese mixture over preserves. Bake 30 minutes or until set.
Cool 1 hour on wire rack. Cover and chill 4 to 8 hours.
Garnish if desired.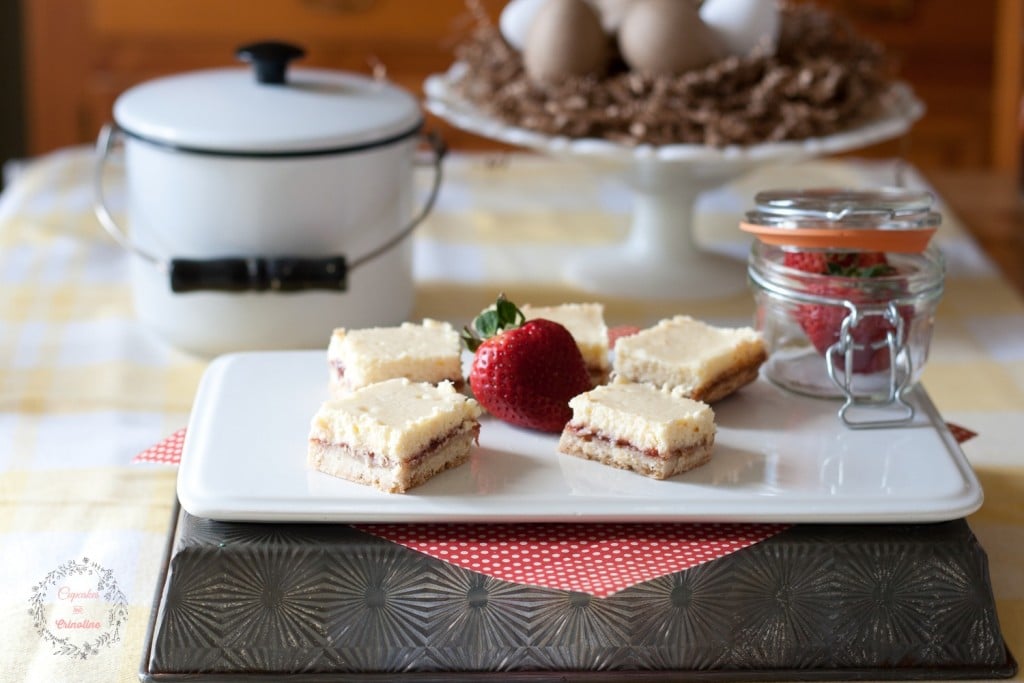 These are a great combo of shortbread and cheesecake ~ yummy! What's your favorite cheesecake recipe?
If you love these recipes be sure to check out these great berry ideas as well!
Grilled Peaches with Fresh Berry Sauce
Homemade White Chocolate Mocha Strawberry Ice Cream