Get rid of annoying underarm stains with this easy method

Have you ever wondered how to remove deodorant stain buildup from shirts? I have because that tends to be an issue with the laundry in my home so I tried several options and found this solution to be the best.
Underarm Stains: Common Laundry Problems and How To Solve Them
Underarm stains on dark clothing

How to remove deodorant buildup from clothes

How to remove white underarm stains from dark clothing
If any of the above sound familiar to you, this solution has helped me to save many a t-shirt and dark dress shirt from the trash bin.
I noticed a particularly significant build-up of deodorant stains on my husband's summer t-shirts and it bothered me to no end.
I tried using stain remover and I tried scrubbing the area but nothing has ever worked well.
Since I didn't want to throw his t-shirts out I decided to do some research and experimenting to see if I could find anything that really worked and I did.
Experimenting was how I figured out how to remove blood stains from fabric, specifically pillows because well, who wants a bloody pillow? TMI?
*This post may contain affiliate links and I'll earn a commission if you shop through them. You can read my full disclosure here.
Supplies Needed to Remove Deodorant Stains:
small scrubbing brush that will easily work in the palm of your hand and in smaller areas

baking soda

vinegar
All you need for this laundry saver is baking soda, vinegar, and a small scrubbing brush. A brush like this one works best. I like to keep one in my kitchen for scrubbing pots, pans, and dishes, and the other I set aside for the laundry room.
Trial and Error
The first time I did this I treated and scrubbed the outside armpit area of the shirt which doesn't make me the sharpest knife in the drawer but it still worked somewhat so there's that.
Going forward though, and what I am recommending to you, is that you turn the shirt inside out to remove deodorant build up. It's best to have direct contact with the area of build-up.
So now that that's settled, ignore the fact that the shirt in these pictures is right side out. Turn your piece of clothing inside out for best results.
---
More posts you may like
---
How To Remove Deodorant Stains from Black Shirts
Generously sprinkle baking soda on the area of the build-up.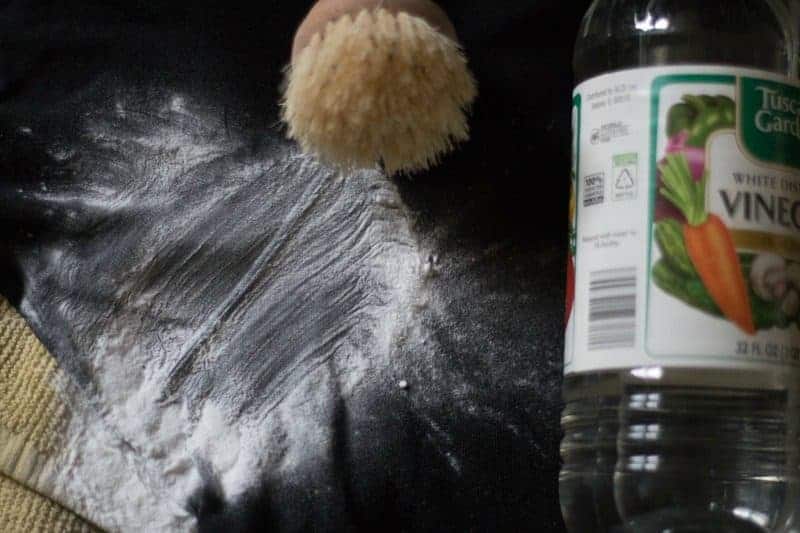 Scrub lightly with a scrubber gently working the baking soda into the fabric and then pour vinegar directly on top of the baking soda.
There will be a cool eruption, bubbling, and gurgling. Let the chemical reaction work its magic for a few minutes before proceeding to the next step.
If you're so inclined have your littles watch the process and tell them it's a science experiment. They'll get a kick out of it and think you're super cool.
Once the eruption and chemical process has stopped, scrub the area once again using a scrubbing brush and then wash as usual.
The Results
I was really happy at how well this worked and how little effort it took. My husband's shirts look wearable again and I don't have to cause a distraction when we're out so people look at me and not the white stains. Okay, so they weren't that bad but I do feel much better now.
I didn't worry about anything happening to my husband's shirt when I set out on this experiment because I had nothing to lose but you may opt to test the vinegar and baking soda on an inconspicuous area of your clothing first before taking the plunge.
You May Also Like:
How to Remove Blood Stains from Fabric